The Digital Pass

From the Sunday School classroom to the youth building to the main sanctuary, Reach the City is designed to keep the entire church on the same page throughout the entire 40 day campaign.
WHAT'S INSIDE THE PASS: A COMPREHENSIVE CAMPAIGN FOR THE ENTIRE CHURCH. KEEP THE ENTIRE CHURCH ON THE SAME PAGE AS EACH BELIEVER FULFILLS THE 1-2-3 CHALLENGE!
– Complete sermon series for adults including six fully manuscripted sermons, PowerPoint, and weekly testimony videos.
– Alignment series for children including all sermons, object lessons, skits, videos, games-six weeks of spiritual programming for children that serves as the kid friendly version of what is happening in the adult sanctuary.
– Our exclusive youth campaign called Reach the Youth. Sermons, dramas, outreach events, daily devotions, complete field manual, and sample calendar tying the entire campaign together.
– A six-week video based small group series that will empower your people for lifestyle evangelism. Small group guides Field manuals, 3 promo videos and announcement scripts to help you communicate Reach the City.
$297.00 for 1 year Add to cart
A Life That Wins Book

A Life that Wins is the companion book for Reach the City and empowers believers to make one life changing decision. Author Mike Holt calls this a hinge decision. This book provides a unique journey through the life of six Biblical characters, each of which exemplify a principle of a winning life. The book reinforces the messages pastors will communicate during Reach the City and contains the weekly sermon and small group outlines for the campaign.
This book instills one of our core values into the life of every believer: A winning life will win others, and an intentional life will influence others!
Reach The City Marketing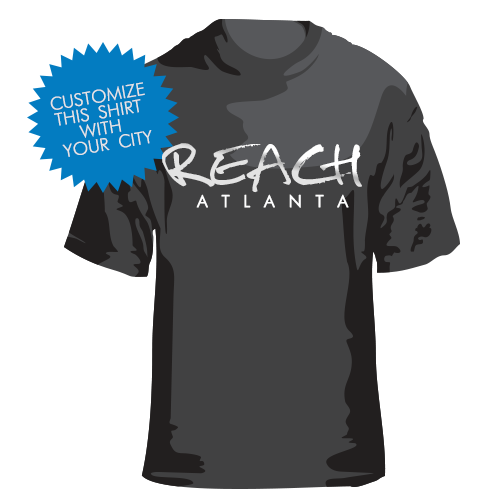 Ask Us About Our Custom T-Shirts!
We sell personalized T-Shirts perfect for your congregation to wear for Serve the City Saturday! Bulk prices include 36 shirts for $15 a piece, 48 shirts for $14 a piece, 72 for $13.00 and 144 for only $12.50 a piece in sizes ranging from Small to XXXL and customized with the name of your city, town, or county for no extra charge!
Email us at Info@Reachthecity.com with the breakdown of how many of each size shirt you would like to order along with your choice of customization and we will be happy to process your order.
We Build Websites!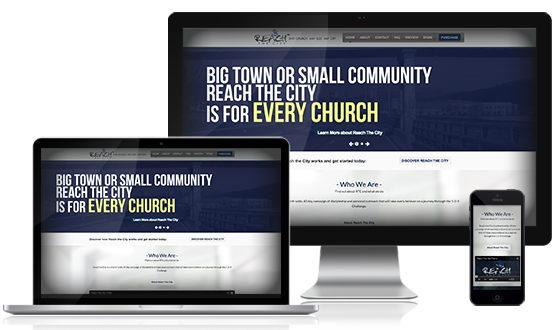 Reach the City understands that in today's world, churches must have a relevant and strong online presence. We can rebuild your site at an affordable price!
With Fluid Technology, your website will work on Smartphones, Tablets, and the Desktop. It's an all in one version of your website! We promise to build you a website tailored to your needs, with a design that is current and lasting. Our teams work together to produce websites that are sleek, functional, and user-friendly.